The gig economy will continue to grow, companies must adapt
The following is an interview with GigsRemote's co-founder and CEO Plamen Tsekov for Bloomberg Bulgaria. The interview has been translated from English. You can watch the original interview here.
Reporter: Elana Kirilova
---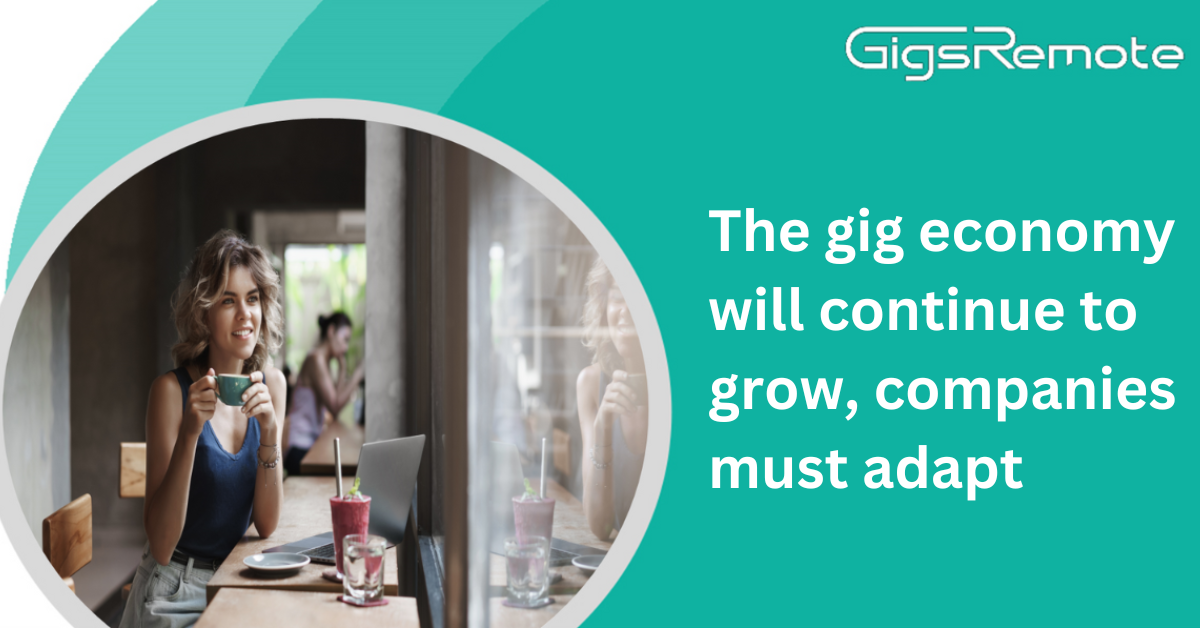 (Image by lookstudio on Freepik)
Elena Kirilova: Hello, welcome, and thank you for accepting to be our guest.
Plamen Tsekov: Thank you for having me and hello to all Bloomberg viewers.
---
E: Let's begin with how and when GigsRemote started?
P: The idea for GigsRemote was born in early 2021. It came about as a response to the state of the global economy and the labor markets, as well as the growing tendency for remote work and flexible schedules during the pandemic.
We founded GigsRemote as a company in April 2022; me and three other co-founders. Now the company has a team and is fully operational. Moreover, we had great first two months, triggering interest in the Bulgarian market and attracting more than 400 people to subscribe to the platform.
The purpose of the platform is to connect highly-qualified IT talent, looking for challenging and interesting work, with companies from all over the world. What we offer to all involved parties is a predictable working environment, where they can cooperate. Also, we create a smoother and less risky journey for IT talent with less experience working this way. We advise specialists on the right steps and present them in the best way possible to clients.
---
E: How many companies have registered on the GigsRemote platform?
P: We are in contact and working with around 10 companies and 300 registered specialists.
---
E: And how many of those 300 specialists have found work this way?
P: Some projects are still under preparation, but using platforms to find work in our sector is one of the best ways to do it. Some people are excellent at using such platforms alone, but some less experienced people can use help in receiving a securer service and assistance along a project's development.
---
E: GigsRemote emphasizes talent from East Europe. What is your biggest market in that regard?
P: Yes, we want to create a platform that highlights talent from East Europe. There are many platforms – international and global – where our specialists must deal with price undercuts by people from Asia, Pakistan, and India. We want to differentiate from other platforms by focusing on quality IT talent from Eastern Europe. Our goal is to first develop the platform in Bulgaria and then expand it to neighboring countries, where we share cultural and geographical heritage.
---
E: Still, at some point, would you start exploring western markets?
P: Western markets are interesting for us when we talk about clients. GigsRemote's mission is to connect Bulgarian and eastern European talent with well-prepared and interesting companies from all over the world, mainly in West Europe and North America.
---
E: Compared to the West, how big is East Europe's advantage when it comes to the preparedness and qualification of IT talent?
P: Well, we offer a very good ratio between price, quality, and experience. At first, it was only price and quality, but after significant investments in our region, especially Bulgaria, experience caught up. Also, we see what's happening in Romania and Greece. The amount of talent in the region has increased and has more experience than before. Bulgaria, for example, is not famous for its large pool of people, but our region stands out with talent that can do quality work (compared to places that attract with cheaper wages and a large pool of specialists).
---
E: How important are services like yours in times of economic turmoil when people turn to the IT industry for some kind of security?
P: I'll start with some context. In short, the gig economy will continue to grow impressively. And so will the short-term freelance gig model. According to statistics, the number of involved people in the sector will grow by 50% in 2023.
There are three main factors for this growth.
The first factor is the rising demand for flexible working schemes. The second is the rising number of opportunities for remote work. And the third is the overall expansion of the gig economy.
Companies are starting to recognize the benefits of offering their employees to work remotely and have flexible schedules. Last year, when businesses tried to bring back employees to the office – especially in the US, people started resigning in throbs i.e., the so-called "Great Resignation". Turnover increased dramatically.
Changing the model, however, gave a chance for empty positions to be filled by freelancers, who are not on a full-time contract.
As per the second factor, the pandemic is over but job ads for remote work keep growing. Going back to the office would be hard. In the IT industry, 25-30% of people are back in the office, in some form but not permanently.
Companies are realizing they can reach a larger pool of qualified people, including those outside of the region where they have offices or presence. As a result, more services hire people abroad, without having a legal presence there. The so-called "Employer of Record" businesses. Also, the opportunity to freelance and achieve a balance between leisure and work is turning into a driving factor for those people, who during the pandemic got used to working from home or away from the big city.
An increasing number of companies all over the world are adjusting their operational models to the so-called "hybrid workforce". This model involves a mix of full-time key employees, engaged with the company processes and results, and freelance experts with specific skills and qualifications, who only take part in selected company projects and initiatives.
Hiring full-time employees is a process that is becoming increasingly difficult. The hybrid workforce has its advantages, especially when it comes to faster engagement of highly-qualified professionals for a specific project or task.
Many visionaries argue that the gig economy – projected to grow by at least 15% until 2027- would be at the heart of future work models. The rise is already happening in developed markets such as the US, UK, and Asia, but also in Poland's tech sector, which is much closer to us. So, Bulgaria won't be sidestepped by those tendencies, and companies and people should prepare for such an environment.
Part of the reason for the growing interest in the hybrid model is that in a recession and strong dynamics, companies would be more flexible and able to maneuver. In the last month, we saw tech giants such as Amazon, Salesforce, Meta, and others, lay off people to reduce fixed costs; squeezed by the uncertainty and the risks their business plans present (especially in terms of revenue).
---
Е: Absolutely.
P: Also, soon all those companies that laid off people would need, well, new people. Work is not going to be less, and a large part of the workforce would be hired according to the hybrid work model and, of course, business needs. Many of those laid-off people would be looking for freelance work and would enter the gig economy.
---
E: Do you expect this trend of rapid gig economy growth to result in greater specialization in IT?
P: Definitely. People who want to participate in the gig economy need to be experts in their fields. Also, for the gig economy to function, companies need to have well-prepared operational models for managing such people and measuring their productivity. The pool of candidates is large and the skill to manage projects, not only with your core team but also with freelancers, would be key for companies. The good news is that people already saw the remote-work model works. From now on, the devil is in the details. Some companies managed to achieve greater efficiency using remote workers, while others didn't. So, managing processes and projects well, and their ability to quickly insert and remove specialized talent when they need it, would be crucial for companies. We are witnessing more and more people in Bulgaria who find work in western companies alone, without those companies having offices here.
---
E: I would like to go back to something you said earlier. American IT companies tried to bring people back to the office but met resistance. Do you think that IT companies in Bulgaria learned from this experience or are they stubbornly pushing for people to go back to the office?
P: I think very few companies in Bulgaria tried to do it this way. The IT industry realized that this is a model that works and helps reach more talent. Before the pandemic, IT companies were concentrated in several big cities, now highly-qualified IT experts are all over Bulgaria, and abroad as well.
This is also an opportunity for Bulgaria to update its labor laws and create an attractive environment not only for specialists in Sofia but to also attract highly skilled and educated immigrants, who want to come back, work in Bulgaria and pay taxes here.
---
E: How many people work for GigsRemote now?
P: GigsRemote is a startup, and our team is small. We have eight full-time employees and a few more engaged part-time.
---
E: Will the team grow this year?
P: We plan a gradual growth of our team. What's more important for us is that the team grows as registrations, and the projects we manage for international companies on our platform grow. We use tech solutions to automate most of our work, but we'll always keep the human touch and personal contact with people and companies.
---
E: And finally, what are your revenue and profit goals for 2023?
P: At this point, I can only speak about our growth ambitions. By the end of 2023, our goal is to have 500-1000 experts engaged on specific projects. We can't forecast revenue because it depends on the specialists and how busy they are. For us, it's more important to achieve our volume and recognition goals in Bulgaria and the region.
---
E: I wish you luck and we'll follow your journey. Thank you for this interview.
P: I thank you as well.
---